Sale!
Smoked Cod (Natural) 900g
Our Natural Smoked Cod Fillets (no dye) are great for quick tasty meals.  The lightly smoked fish adds great flavour to a fish pie, a fish stirfry, in a rissotto or a pilaff. The chunky fillets of this lovely fish flake perfectly to make light healthy meals for all the family. The smoking process follows a traditional 100 year old recipe over oak chips by experts who know when a fish is ready just by touch. All in all we aim to bring you the finest quality and this product certainly fits the bill.
900g per pack an average of 4-5 fillets per order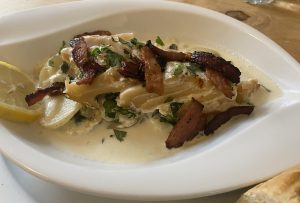 Poach in milk & cream for 20 mins from frozen 12- 15 mins if defrosted.