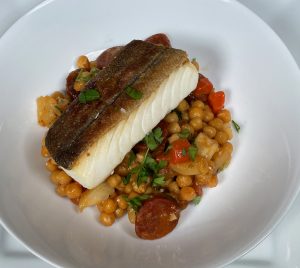 4

6oz

Haddock Loins

skin on for this dish

4

tblspn

olive oil

300

grams

Dried Chickpeas

soaked in cold water overnight / 6 hours

250

grams

Spicy Chorizo

sliced

2 - 3

medium

Potatoes

peeled & diced

2 -3

medium

Carrots

peeled & diced

2

cloves

garlic

finely chopped

1

large

Onion

chopped

900

mls

Chicken Stock

1

Bayleaf

1

bunch

Flatleaf Parsley

Chopped
Fry the onions, carrots and garlic in some olive oil. Cook until they start to brown. Now add the sliced chorizo and cook until brown on both sides

Cover with the chicken stock, add the bayleaf and bring it to the boil

Add the diced potatoes and the chickpeas . Bring back to the boil and cook for about one hour. Skim the chorizo oil and any foam from the surface as needed.

Add a little more boiling water if needed if you like the stew to have a soupy consistency. We have let most of the liquid boil away.

Just before the stew has finished cooking take the defrosted Haddock loins and salt the skin. (the loins should be dried with kitchen towel before salting)

Add olive oil to a frying pan heat then place the loins in the hot oil skin side down. Cook for 3-4 minutes. When the skin is crispy turn the fish over and cook for another minute or two.

Now that the stew is cooked, remove the bayleaf, add salt and black pepper and then add chopped flat leaf parsley.

Spoon generous amounts of stew onto a dish/plate and place the haddock on top skin side up. Garnish & serve.