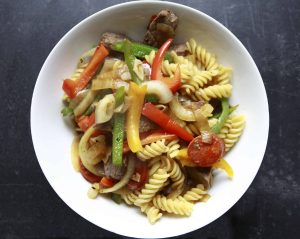 2

Seafresh

Sirloin Steaks

1

Tblspn

olive oil

2

cups

Pasta swirls

1

med

Onion

peeled & sliced

1

med

Red Pepper

seeded & sliced

1

med

Green Pepper

seeded & sliced

1

med

Orange or Yellow Pepper

seeded & sliced

2 -3

segments

garlic

4

oz

Chorizo

thinly sliced

2

Tblspn

Soy Sauce

Salt & Black Pepper
Cook the pasta swirls in boiling water as per instructions in a timely way so it's ready just as we are about to serve the stir fry.

Remove the fat from the steaks and slice into bite sized pieces. Season with salt and pepper and a little soy sauce if you like.

Heat the oil in a wok on a med to high heat. Add the steak pieces and seal on each side. Add the sliced onions, peppers and garlic and fry for 3-4 mins. Add the slices of Chorizo, the Soy Sauce and seasoning to your taste.

Finally drain the pasta then add to the stir fry tossing it through to mix with the rest of the ingredients. Then serve ... making sure you use every last drop of the very tasty liquor from the wok.
If you prefer your steak to be rare then add the steak after cooking the onions & peppers. If on the other hand you prefer your steak well done then cook for a little longer before adding the onions and peppers.